Martial Arts Classes at USA Karate
Rosemount & Burnsville, MN
Special Online Offer

2 Weeks FREE!
Limited Time Offer
Take An Exclusive Sneak Peek
At Our Local Community Programs
At USA Karate we have been training community members from kids to adults.
Our students of all ages excel socially and in life at home, at school, and at work.
At Home
Self-discipline and impulse control are two of the biggest advantages of martial arts training.
At School
Kids who practice martial arts have a much higher attention span and self-discipline.
At Work
Improve your focus and concentration with the new found energy you will have.
A Story That We Are Proud Of As A Martial Arts Industry Influencer
FREE E-BOOK DOWNLOAD
First Time VIP Visitors To Our Site Get This Exclusive Download
Check out the Special Offer for our karate for kids classes in Rosemount & Burnsville, MN. Karate enhances: Respect, Courtesy, Self-Control, etc. which leads to new life skills, better grades, reduced ADD/ADHD issues, less Bullying, self-defense, and better at home behavior.
No one should ever become a target or victim in life, though unfortunately for most of us, it is almost inevitable to occur in some form at some point. The staff at USA Karate takes bullying very seriously and stands up to protect youth within the community.
Our Martial Arts classes for adults are top notch. Our instructors are actively involved with each student and the benefits that our program has on and off the mat. From safely taught self defense skills to physical fitness, our adult program delivers real world results for this ever-changing world. Our community members in Rosemount & Burnsville, MN love the classes and what we have to offer for our students and their families.
We Are Proud To Announce… Our National Go2Karate® Recognition Award
Go2Karate.com is the largest martial arts directory listing website. Go2Karate.com rates martial arts schools' websites based on criteria that demonstrates a quality user experience, customer service and service rating based on reviews. Go2Karate.com has a selection process for rating all schools that receive the Go2Karate Top Rated Quality Badge. We highly recommend you take a moment and read the reviews below.
Our Martial Arts Team Takes Great Pride In The Reviews We Receive
See What Our Community Members Say About Our Programs
Chris and Tonya Tatro
We have 3 little girls enrolled in the USA Karate Leadership program and from our experience I can tell you they have become more confident, composed and focused. Our girls are 10, 8 and 6 years old and to see these character traits already starting to take shape makes us so happy to be involved with the USA Karate team. The instructors are engaged and vested in developing good people that are not only well equipped to defend themselves but also to lead through the challenges the world provides us all. Keep up the great work USA Karate, thanks for offering our children a fun and encouraging environment to learn and grow.
Colleen Stark
My daughter has always been a pretty good kid. However, when we started karate we learned of some things she was doing at school that needed to be changed. Mr. Seme helped us by talking to her and explaining that it is important to do our best not just at karate, but at home, and at school. I was very pleased at her last school conference the teacher had nothing but good reports! She has been doing a FANTASTIC job at home as well. Thank you USA Karate for the support and guidance you provide to students!
Morgan S.
Joining USA Karate has truly been a blessing in disguise for us. Although we originally explored USA Karate, Rosemount, for my five-year-old son, my daughter was hooked after her very first lesson. In her past eight months as a USA Karate student, her self-confidence, motivation, mental and physical abilities have improved immensely. Now, as a Black Belt Leadership student, she's earning honors at school and participating in their Gifted and Talented program! As an added bonus, I, too, have gained knowledge, skills and awareness through the additional training and materials offered within the Black Belt Leadership program! We are extremely grateful for this program, and for Mr. Seme's and Mrs. Johnson's instruction, dedication and passion for empowering others!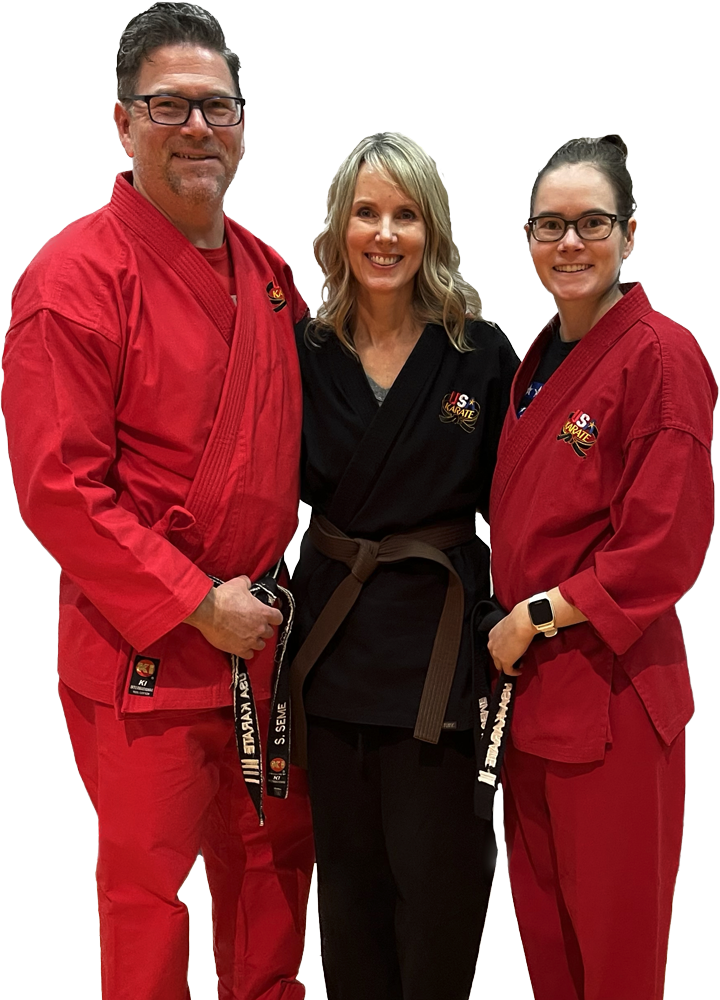 We Are Proud To Introduce Our Owners Steven Seme and David Younglove
With a passion for helping community members stay safe while teaching the "art" of martial arts, our Master Instructor believes that each student can obtain their goals and objectives in life. While teaching techniques that save lives with life skills that work both on and off the mat, our students get the best instruction possible in
Rosemount & Burnsville, MN